Last night Liquid Courage hosted the 3rd annual Crawfish Akasaka Halloween party. 60+ people including the band members enjoyed a 3+ hour nomihoudai and lots of meat and fried food. Though I was a little nervous about keeping up with orders in our humble establishment, it seemed that with the help of SuperGirl we were able to to polish off 7 bottles of vodka, 5 bottles of Gin, 2 bottles of Jack Daniels, 1+ bottle of Cassis, 1+ bottle of Captain Morgan, 1+ case of Corona, 4 kegs of ebisu and countless other random potables. 15 limes were sacrificed for the event.
Everyone tells me that Supergirl & her companion, Jake, made them euphorically drunk, full up with food & entertainment, and more than satisfied.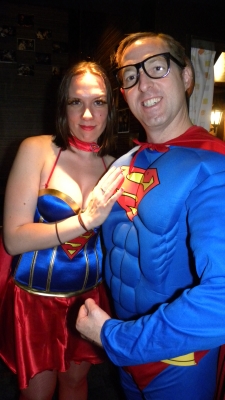 My brother joins us to entertain. Thanks Superman!